How Should Food Workers Deter Pests from Outdoor Dumpsters?
Have you ever gone to a dumpster after a long day of work?
It's dark and you're tired, maybe you've been on your feet for 12 hours plus.
You are just looking for the day to come to an end!
Then there is one more surprise for you, a dumpster friend.
How Should Food Workers Deter Pests from Outdoor Dumpsters?
Have you ever walked away and thought how can I make this stop? Who wants to have this happen day in and day out, especially since many service workers work long shifts and many at night?
After years of being a food worker myself and being scared and shocked by pests at the dumpster, I decided to do some research on how to make my life, and now yours, as a service worker a little more manageable. 
First, be prepared. They are hungry and are openly looking for survival and food is the only option.
The most important thing for food workers to deter pests from outdoor dumpsters is for the area to be clean.
Below is what you do not want your dumpster area to look like. This is going to quickly and easily attract pests that food workers do not want to deal with.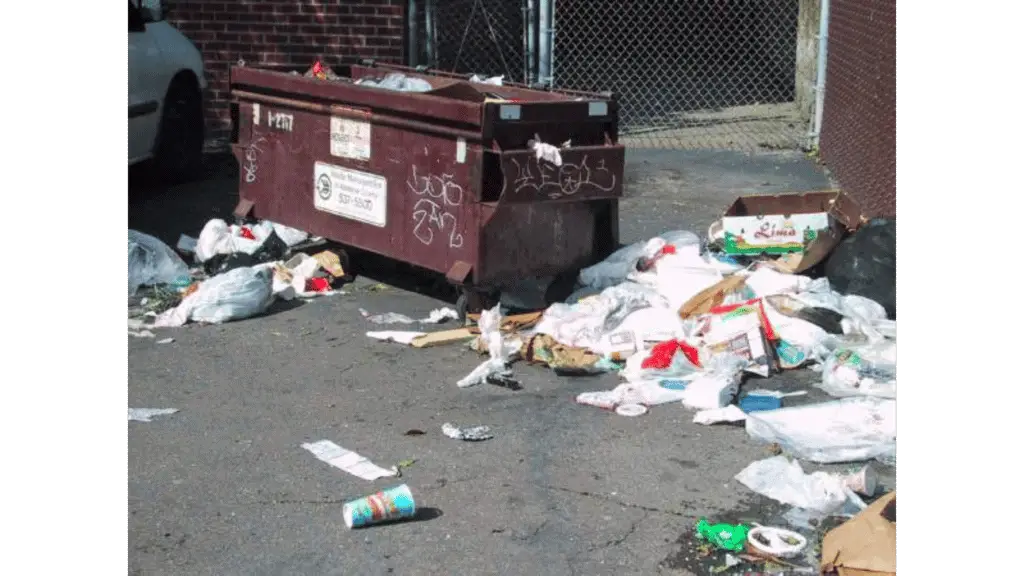 It may sound easy to keep the dumpster area clean, but as a food worker, it can sometimes be a very hard thing to actually do.
As we all know the dumpster is a collection of trash and waste. So, you may ask yourself, "how should food workers deter pests from outdoor dumpsters?
Keeping the area clean from the beginning would be ideal, but we usually are not there from the beginning of the dumpster's life. We did not inspect it when it was delivered, it probably has been there for years.
We inherited this problem and its little friends.
You may say this is not my problem, but it is if you're getting scared by these little pests. Trust me I have been tortured and grossed out several times in my career.
Let's review what food workers can do to deter pests from outdoor dumpsters.
Clear, and make sure the area is clean. 
The dumpster area should be 50 feet away from a building, 100 feet if possible.
The area around the dumpster must be cleaned on a regular basis. Use a high-power washer and bleach to clean the area.
Make sure all the tops and lids are closed after each time waste is placed into the dumpster.
The dumpster should be placed in a well-lit area, if possible.
Make sure all trees, bushes, and any limbs are removed from around the dumpster. 
Make sure all trash is placed into the dumpster, not around the dumpster.
Make sure all bags are tied up when disposing of the trash.
Dumpsters should be placed by a drain to make sure water has a place to drain. 
Use ammonia around the dumpster as rodents do not appreciate the smell.
Pests and Outdoor Dumpsters are not your responsibility, or are they?
You may say that keeping pests out of outside dumpsters is not your job or that it is not possible to do. I would challenge you and say it is your job as a food worker.
As food workers, we need to keep pests out of the dumpsters. We are the ones directly going to the dumpsters, sometimes numerous times a day.
Many of these simple steps are easy to do if you take the time. I would also be proactive and get with management with many of these options if you are not in charge.
Put a rotating cleaning schedule into place at your business. Make sure there is no trash around the dumpster.
Some simple steps you can do if management decides to turn a blind eye to this:
Make sure your bags are tied and not leaking.
Close lids and latches to the dumpsters.
If you are lucky enough to have a brand new dumpster at your place of work, look over the above options to keep your little friends out of dumpsters from the beginning.
We know a clean area is critical to keeping pests out of dumpsters.
As food workers, we work long hours and the last thing we need at the end of our shifts is to have little visitors.
Encourage your fellow service workers to adopt these tips to ensure pests are kept out of dumpsters. You can even share this article with them.
Put a rotating schedule into place and have fellow service workers sign their names by each task. If you have a management team who is aware and responsive to your needs, make sure you let them know about the pest problem.
If the problem persists I would ask for a replacement dumpster or management may have to hire a professional pest control service. Keeping pests out of dumpsters as a service worker is all of our jobs.
To keep pests out of your outdoor dumpsters, remember the triple C's: Clean, Clear and Closed.
Follow these Triple C's and this will make your job a lot easier.
And, if you really want to get creative, you could even consider getting a pet cat to help keep the pests away.